Join Us
Join us as we bring California to London for an entirely new kind of wine experience. You will be transported to the Golden State to explore vineyards along the coastline, mountains, and valleys. Taste an extraordinary range of wines from micro-producers and multi-generation farmers. Wander through the Sensory Garden and learn about organic and sustainable farming. Talk with our Culinary Gardener and Executive Chef from Sonoma. Experience the Virtual Vineyard and watch our landscape and climate form through millennia. You are invited to experience California.
.
"Eureka!" is the state motto of California, meaning "I found it!". It ties back to the gold rush when our state was founded by people looking for a better life, and today it underscores California's inherent spirit of discovery and innovation.
Designed for the wine trade and wine enthusiasts to experience and discover wines from California in a whole new way and enjoy a taste of the California lifestyle here in London. Eureka! offers you the opportunity to taste hundreds of wines in an innovative, refreshing and relaxed environment.
You will be among the first to experience the Virtual Vineyard, a new approach to a wine seminar that is built around a series of 4D videos that show the geologic formation of the state and how the terrain works with our climate to create California's diverse winegrowing regions. The seated tasting explores a different aspect of California from the coastline to the mountains led by Master Sommelier Will Costello.
Explore Wines on a Mission a walk-through exhibit that provides insight into how California winemakers and winegrowers are responding to climate change and preparing for the future. An innovative self-pour area developed with Eurocave offers the opportunity to taste and explore wines on your own.
The Loft offers a rotating selection of wines to taste from micro-producers to multi-generation farmers. All wine information will be available via a smart phone app with QR codes throughout the event linking attendees to details and information on the wines and wineries.
Wander through the Sensory Garden – an outdoor courtyard that reflects the California lifestyle and showcases sustainably grown wine and food. Tucker Taylor, the head of the Culinary Gardens at Kendall-Jackson in Sonoma County will be on hand to talk about the garden design and his approach to sustainable and organic gardening. Kendall-Jackson Executive Chef Justin Wangler will connect sustainably produced wines and produce through his wine and food pairings and cooking demonstrations in the garden. Our "Sustainable Wall of Wines" showcases over 250 certified sustainable wines and highlights the California wine community's commitment to sustainable wine growing.


How to Find Us
This event takes place at Truman Brewery, The Boiler House,
152 Brick Lane, London, E1 6RU in Shoreditch.
The Boiler House is located in central Shoreditch and can be easily reached by bus, rail, tube or on foot. The venue benefits from close access to all forms of public transport. Liverpool Street and Shoreditch High Street stations are a short distance away.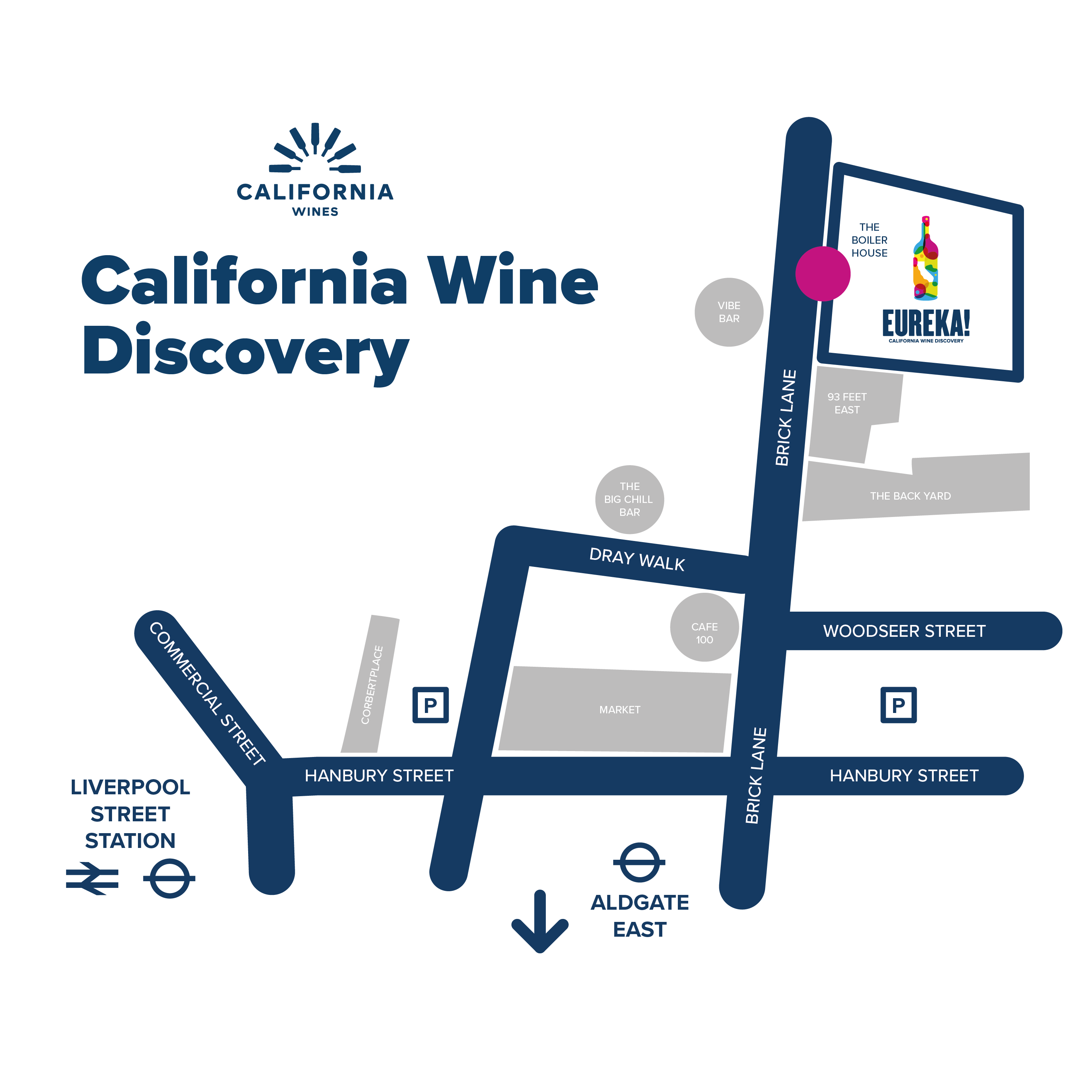 Truman Brewery, The Boiler House, 152 Brick Lane, London, E1 6RU in Shoreditch.

About California Wines
You might say Californians are serious about wine and relaxed about everything else. Well, maybe not everything else: from a thriving technology industry to revolutionary green farming, we work hard and innovate constantly. But when you're surrounded by natural wonder and constant sunshine, it's pretty easy to smile. Of course, a glass of California wine always helps.

Thirsty to Learn more about California Wines?
Get certified today with Capstone California, the comprehensive study of California Wine
for both professionals and enthusiasts!
The program offers four levels of study, from novice to expert. Each build on the level prior, and covers history, lore, geography, climate, soils, grapes, viticulture, wine laws, producers, vintages and the business of wine.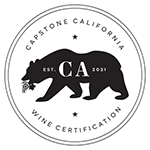 Partners

Contact Us
If you need to get in touch, please feel free to email info@eurekacaliforniawines.com and one of our team will get back to you as soon as possible.